Bridging hierarchies within an organisation has always been a delicate cultural challenge, but now that executive teams have been physically separated from their employees, the disconnect in many cases has been exaggerated. As well as the physical separation, a metaphysical divide is threatening to open up too - a 'digital divide' between the C-Suite and the business at large.
This digital divide works on two different levels:
(i) the divide between analogue business leaders and more digitally-savvy employees; and
(ii) the differing effects of remote working on the lives C-Suite and their less financially secure staff (and their perceptions of the virtualised workplace).
(i) is well documented but its importance is often understated. Gartner explains how companies can move faster on digital transformation if all levels of the organisation share an understanding of the aims. But there is evidence of a growing divide between digitally hungry up-and-coming professionals and the more analogue business leaders at the helm of the company.
Employees are increasingly eager to make a digital shift; CWJobs found that more than half of non-tech workers are contemplating a tech-based career change and almost one in 10 workers have already made the move. Meanwhile, the C-Suite are frequently found to be either unethusiastic or underinformed about tech. This needs to change: Emergence Head of Executive Education Joy Poole wrote about the importance of technology fluency and how leaders can cultivate an understanding of new tech-driven business methods and approaches.
But that doesn't solve for (ii). The negative effects of remote work arguably hit the entry-level positions hardest in terms of its damage to career development. Junior lawyers are being deprived of proper mentorship in the absence of face-to-face contact, for example. Lower-ranking professionals are likely to be experiencing this remote working shift differently, more likely to be working from claustrophobic spaces. A new survey from Arkphire, Citrix and Dell suggests company directors and staff view the impacts of remote working with "widely differing perceptions". Senior directors were more likely to believe that remote working has positively impacted their business; many employees felt differently.
IBM recently found (shown in the graph below) a series of discrepancies between executives and employees; for example, while executives believe they have been giving employees the tools, training, and emotional support they need to remain productive throughout the pandemic, employees largely disagree.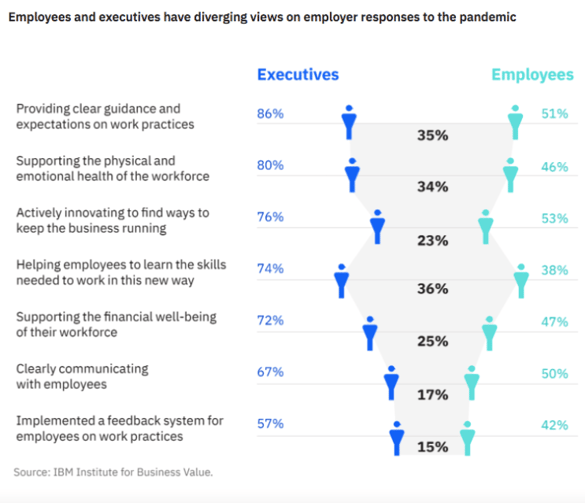 Getting your business all on the same page
The physical separation of remote working means leaders now need to overcompensate and go the extra mile to bridge the cultural gaps in the business. In the absence of water-cooler chat, executives have to be seen encouraging an open culture that recognises the value of knowledge sharing and consistent, honest communication, while also developing the technology fluency to be able to keep up with increasingly digitally inclined talent.